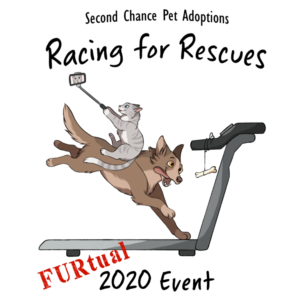 Racing for Rescues 2020 was a record-breaking event! Thanks to our registrants, sponsors, vendors, donors, and raffle ticket buyers, we not only met but surpassed our goal by raising $50,151! Please enjoy this FURtual event recap video!
CONGRATULATIONS to all of our winners:
Kathy Repass: winner of the #PawsFurAPicture scavenger hunt challenge.
Connor Giblin: winner of the #Impurrsonations costume contest challenge.
Andrea Beimler: winner of the #PawPrintsForPets shape-your-route challenge.
Jamie Hewett and Ron Fulton: winners of the Evergreen 5K/walk challenge.
Lisa Best, Bev Pitta, and Tracy Serafini: winners of the fundraising competition.
Ellen Schwerer: winner of the raffle prize.