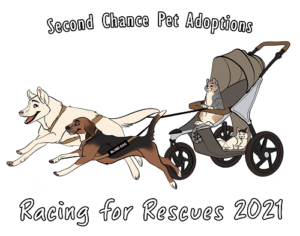 Welcome to Day 1 of Racing for Rescues! Please enjoy this special message by our 2021 host,

Wes Hohenstein

!
See all the event info and register
here
!
Register to Participate
Whatever your speed, we've got something for you:
Run a 5K or take a casual fun walk
Submit your run timing to the leaderboard
Get an event t-shirt no matter what!
Support a Participant or the Event
COVID doesn't have to steal away animals' second chances:
Let a participant know you're proud of them: donate!
Help us reach our overall event goal!
Great way to help even if you can't participate!
Fundraise for the Animals
Maximize your potential to save lives by setting up your own fundraising page for your friends, relatives, neighbors, and coworkers. Three fundraisers will each win $50 Amazon gift cards!
Get Your Raffle Tickets
We're raffling off $750 worth of gift cards to spend like cash! Score $500 from AmEx, $150 from Amazon, and $100 from Walmart when you win the bundle of gift cards for shopping, dining, travel, etc.!