With our community's consistent support, Second Chance Pet Adoptions has changed a lot since our inception in 1987.
One thing that hasn't changed? Each spring ("kitten season"), shelters are overwhelmed with unwanted babies like the ones we now call Black Bean and Pinto Bean. On May 3, they came to us dirty and dehydrated in a cardboard box; students at a local university were offering the 5-week-old kittens for free to other students, and a good Samaritan knew she had to get them out of the beating sun and into the hands of experienced caretakers. She called her friend, a Second Chance volunteer, to ask for our help.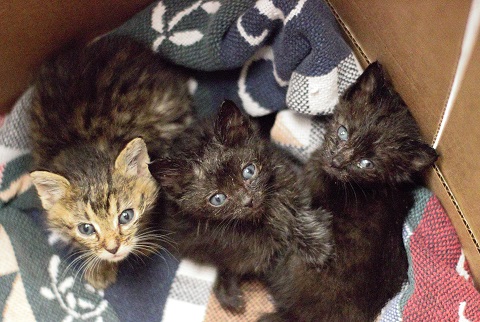 While we'll always put donors' gifts to work supporting needy kittens like the now-thriving Black Bean and Pinto Bean, we're also working harder than ever to ensure that fewer offspring are born into homelessness; outdoor living and improper care threaten the lives of fragile infants (indeed, the third kitten who came in with the pair passed away two days after we received him, too weak to overcome the trauma he'd experienced).
That's why—in addition to spaying/neutering all animals in our adoption program—we began funding spay/neuter surgeries for animals owned or looked after by members of the public in 2019. With 2,500+ surgeries behind us since 2018, we're aspiring to fund as many as 4,000/year beginning in 2023—all to prevent needless suffering like that known by Reese:
One 30° January night, a Second Chance volunteer, Megan, spotted two stray dogs on her way home; her phone had just enough battery to call our Dog Program Manager, Laura, to lend boots-on-the-ground support. Though not dressed for the occasion, Megan and Laura bore the frigid temperature to catch the dogs; while they worked, passersby stopped to ask if they were also looking for a third dog, whom they'd seen elsewhere on the highway. Megan and Laura traipsed through the woods to find a young German shepherd we came to know as Reese, who thankfully grew exhausted and surrendered. One of her legs dangled, swollen and obviously broken.
When things go south, we look north—to our "Hearts to Home" transport partners as far north as New York. Since making transport a Second Chance program in 2017, over 700 dogs have escaped euthanasia in NC shelters through relationships we've carefully cultivated with other no-kill rescues in states where the "supply" of adoptable dogs falls short of the "demand" for them. In February, Reese joined one of our transports to Delaware, where she now runs around her forever home with ease thanks to getting surgery here!
Rescuing and finding adoptive homes for stray and abandoned cats and dogs remains core to our mission—but it's not enough to end animal homelessness, so we must do more… and we have, with your gracious support. Our program expansions haven't been without their growing pains, but making a lasting impact—with great effort and great efficiency—is a commitment we take seriously, because we know that you, as a benevolent Second Chance partner, are counting on us to do so… just as much as the animals are.
Let's make (more) history together! Can you donate $35 to ensure these life-saving programs continue?