The 17th annual Evening of Pawsibilities brought closure to our summer of celebration. Over the course of three decades, the staff and volunteers of Second Chance Pet Adoptions have rescued over 12,000 homeless and abandoned cats and dogs, an accomplishment that we officially began celebrating at the Family Reunion and Racing for Rescues in May. The dual event was record-breaking and our best 5K/2K yet, with 576 registered participants and over $45,000 raised!
Over the summer, you sent us hundreds of photos of your Second Chance pets in their forever homes–a project with which we built beautiful a Family Tree at our concluding auction event. We also launched the "$30 for 30" campaign and asked you to be a part of history by sending a gift in honor of the occasion. You surpassed our goal of $9,000 and then, when we raised our goal to $12,000, you kept giving and surpassed that goal, too!
Finally, summer came to an end, and with a bang–the Evening of Pawsibilities sold out with the highest attendance ever! The result? Thanks to our donors, sponsors, attendees, bidders, and those who purchased raffle tickets, Second Chance animals received $75,000–around 13% more than last year's total!
Be proud of yourselves, Second Chance family. We challenged you this summer to invest in this rescue organization and confirm your commitment to the animals, and you stepped up. You renewed your promise to be there for the sick, the injured, the alone, and the abandoned. Because of you, precious cats and dogs will be rescued, will be healed, and will be loved. Thank you for being our partners in rescue.
Psst…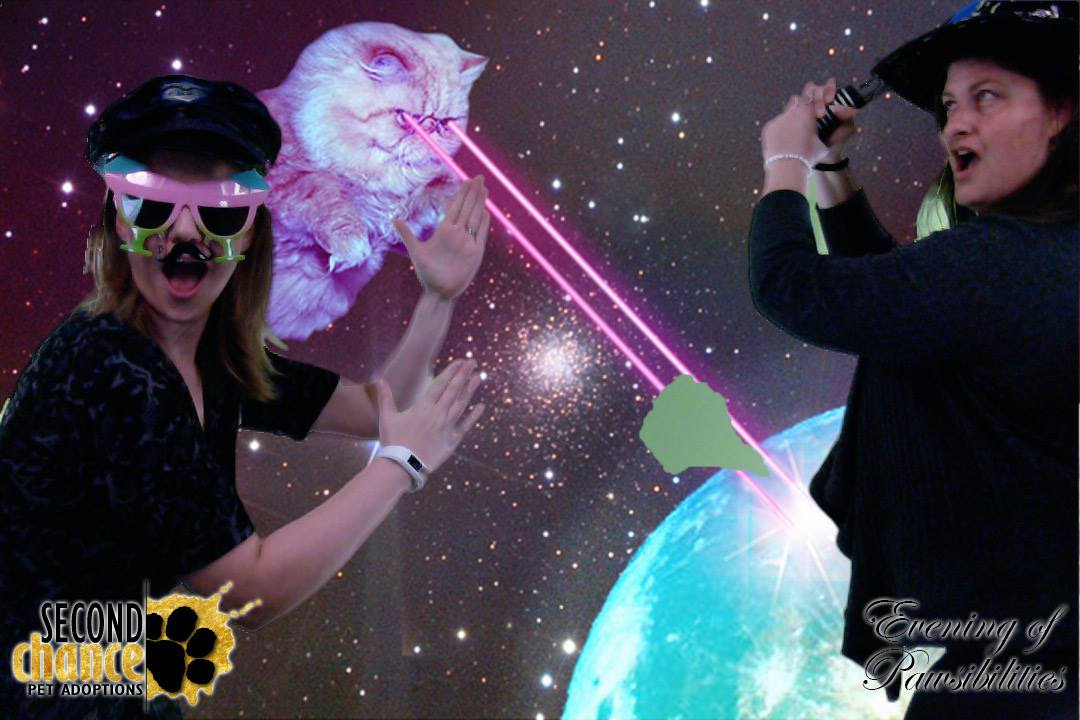 Our Gold Paw sponsor, Glover Corporation, entertained our auction guests with a free photo booth. Click here to see the funny photos in our Facebook albums or, if you are not a Facebook user, here to see them on our website!
Thanks again to our Evening of Pawsibilities sponsors!
Allison Paris to Leave Second Chance;
New Dog Program Manager Hired
It is with mixed emotions that we share the news that Allison Paris, our Dog Program Manager, has left Second Chance. With her strong commitment to the welfare of the animals, Allison has made significant contributions across both the dog and cat programs. She has been responsible for the rescue and rehoming of over 1,000 dogs since she joined us in 2009. Additionally, she has been instrumental in the training of many volunteers and to the operation of the adoption center, and has been contributory to the successful execution of many fundraising events.  Quite simply, she has played an integral role in the success and growth of the organization over the eight years she has been on staff.  While we are sad to see her leave us, we are supportive and excited for her, as she strikes out on an adventure towards something new and different.  Her last day on duty was October 11th. We wish her our very best and she has our deepest thanks.
To build on the foundation that Allison has laid, we are pleased to announce that Laura Honeycutt will be joining Second Chance as our new Dog Program Manager. Laura has extensive experience in animal rescue, most recently in a volunteer capacity as a Dog Program lead for the Paws for Life rescue group based in Franklin County.  Laura will be joining us November 6th.
Should you have any matters relating to the Dog Program between October 11th and November 6th, please direct them to Lisa Imhof.
Director, Operations                President, Board of Directors
Aw, snap! We're on Snapchat!
A Schnauzer wrapped in a Yoda bath towel. Our lobby kitty, Chiquita, meeting a new pup. A Yorkie relaxing in her foster home on a wild Friday night. These are just some of the behind-the-scenes photos we've shared on Snapchat over the last few weeks. Follow us today–you won't regret it!
Help Animals Through Workplace Giving!
Second Chance proudly participates in the NC SECC (State Employees Combined Campaign)! Have you selected us (#1571) to give homeless cats and dogs a second chance to find love?
Meet Manny!
Rescued from a county shelter in April, cuddly 5-year-old Manny was heartworm-positive. He's done with treatment now and ready for his forever home! Manny is blind in one eye, but that doesn't stop him from exploring or chasing down his toys!
BottleMixx Turns 5!
BottleMixx is a locally-owned bottle shop and a Second Chance Platinum Paw sponsor! Co-owner Ellen McKim serves on the Second Chance Board of Directors, and she and her husband, Bruce, support Second Chance in a major way through BottleMixx: all tips at the bar are donated to our animals, and matched! We are happy to congratulate them on the fifth anniversary of their store; we invite you all to join in the celebration on Oct. 21 & thank them for their support of our rescue!
Can You Support Second Chance Today?
At Second Chance, our ultimate goal is to send animals to their forever homes–but not everyone is in a position to adopt a cat or dog, and we get that. Two other ways you can support these rescue efforts? Adopt. Volunteer (including short-term, all-expenses-paid fostering). It's not too late to help. Animals are waiting on you, right here, right now.