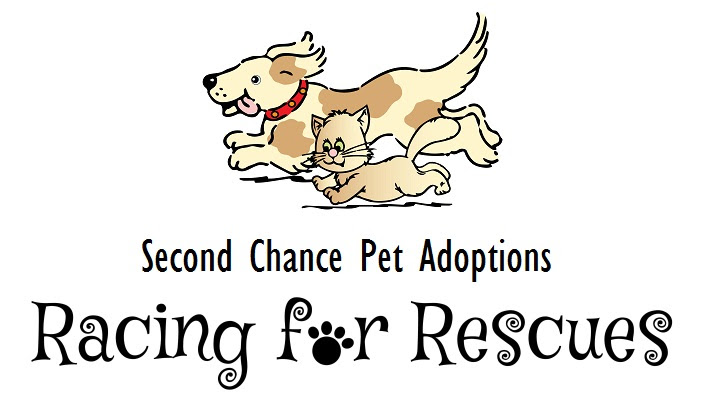 Well everyone, this is it: the final 5K Friday post!
As we put the finishing touches on Racing for Rescues and the Reunion, we've got some final reminders for you–and exciting news: for the first time ever, the fastest dogs (in the categories of small, medium, and large) will win awards! How great will your pup look with a ribbon pinned to her collar? Just one more thing to make this our best race yet! 🙂 (And with 500+ registrants so far–wow!–we most certainly have you to thank for making this one great!)
— ADDITIONAL EVENT INFO: 5K, 2K, & REUNION —
We've updated the Racing for Rescues web page with important race-day info, including the location of (and directions to) MRC Plaza on Centennial Campus, event timings, course maps, and more. Check it out today–and don't forget that early packet pick-up is Friday at Fleet Feet!
Saturday, May 6: The FINAL DAY for Online Registration and Raffle Tickets
Online registration for the event closes at 5:30 p.m. EST tomorrow, Saturday, May 6. Online raffle ticket sales will close at the same time. While we will have on-site registration (runners should register no later than 9:45 a.m.) and on-site raffle ticket sales, too, registration is cheaper in advance and raffle tickets are available to those who can't attend the event on our website, so take advantage of both opportunities before it's too late!
Registration Table: FIRST STOP for Event Shirts, Bibs, Goody Bags, and Bandanna Coupons (Free for All Dogs There)!
When you arrive Sunday, make the Registration Table your first stop (don't let the Duck Donuts tempt you off-course just yet!). We'll get you all checked in and ready to go–and get your dog set up with a Second Chance bandanna (while supplies last)!
— TO ALL OUR PARTICIPANTS: THANK YOU —
As we're flying around the Adoption Center this week making sure we have every last detail in order, it's easy to get lost in the chaos and overwhelmed by the stress of pulling off a great event. We might need a reminder to stop and breathe, but when we do, we remember that all of this is for the animals, and we are (somewhat) rejuvenated. Rescue takes a village, and our community of supporters continue to astound us with an outpouring of generosity. We appreciate each and every one of you and are grateful for all you have done to help us save lives.
— THANKS TO OUR SPONSORS —
BottleMixx, Dogtopia of Raleigh, Care First Animal Hospital, Glover Corp, Animal Emergency Hospital & Urgent Care, Purina Pro Plan in conjunction with Pet Supplies Plus, Hand & Stone Massage and Facial Spa, Triangle Law Group, AKC Reunite, Pet Mania, Tapout Fitness, Armadale Farm Kennel, Merufitness, Servepro, Phydeaux and H² Management and Design.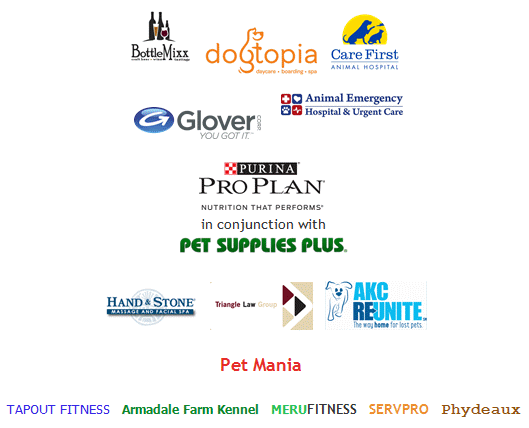 — SPONSOR SPOTLIGHTS —
When your pet has an emergency and your vet isn't available, "scary" doesn't even begin to describe it. But Animal Emergency Hospital and Urgent Care can help. Providing veterinary emergency services for the care of dogs, cats, and exotic pets for over 35 years in Raleigh, Animal Emergency Hospital and Urgent Care is a caring extension of your family veterinarian. Offering urgent and critical care during night, weekend, and holiday hours, they're there to meet the needs of you, your pet, and your family 24/7/365. Learn more at www.ervets4pets.com!
Purina Pro Plan is trusted by professionals and crafted with pride. As the first dry food brand with real meat as the first ingredient, Purina provides outstanding nutrition for those who want the absolute best. With over 85 years of innovation and more than 400 scientists–including veterinarians and nutritionists–on staff, Purina obsesses over the quality and safety of all their products, creating nutrition that not only performs but has an enticing taste, too. Learn more at www.proplan.com and pick up a bag today at Pet Supplies Plus in Raleigh.
AKC Reunite is North America's largest not-for-profit pet ID and recovery service. AKC Reunite is committed to Pet Identification, specifically ensuring pets have two forms of ID, a collar or pet ID tag and a microchip (or tattoo), to aid in their quick identification and return home if they get lost. AKC Reunite offers an incredible value for its microchip and ID service, with proceeds supporting the needs of the animals that inhabit and enrich our lives. They are a pipeline of support through microchip and scanner donations, the AKC Pet Disaster Relief program, and their many other charitable programs. Learn more at www.akcreunite.org.
Hand and Stone Massage and Facial Spa offers professional massage, facial, and hair removal services tailored to your individual needs. They're always there when you need them since they're open seven days a week with extended hours, so you can look and feel your best any time–affordably, at that! The massage and facials menu runs dozens of varieties long so you can select the service you love most, and Healthy Lifestyle Program members enjoy additional services and lower rates. Check them out today at www.handandstone.com.
https://www.secondchancenc.org/wp-content/uploads/2017/03/rfr_news_logo.jpg
415
707
Dave O
https://www.secondchancenc.org/wp-content/uploads/2017/03/SCPA-logo-300x158.png
Dave O
2017-05-05 15:37:51
2017-05-06 14:46:13
"Racing for Rescues" The Final 5K Friday: Dog Awards, Important Info, and Reminders