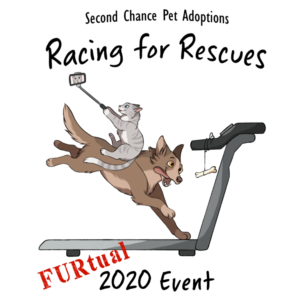 Our annual 5K run/fun walk is now FURtual (virtual)!
Experience this unique 10-day event April 30 – May 9!
See all the event info and register (shirt included) here!
Register to Participate
Whatever your speed, we've got something for you:
Run a 5K or take a casual fun walk
Participate in one, two, or all three challenges
Get an event t-shirt no matter what!
Support a Participant or the Event
COVID doesn't have to steal away animals' second chances:
Let a participant know you're proud of them: donate!
Help us reach our event goal of $50,000!
Great way to help even if you can't participate!
Fundraise for the Animals
Maximize your potential to save lives by setting up your own fundraising page for your friends, relatives, neighbors, and coworkers. We'll provide all the fundraising materials you need to earn their support!
Get Your Raffle Tickets
We're raffling off $550 worth of shopping and dining gift cards! Enjoy $250 to Target, $200 to Target, and $100 to Chuy's Tex Mex (helloooo, creamy jalapeno sauce!) when you win our big bundle of gift cards!