SECOND CHANCE PET ADOPTIONS' BILLY THE BLIND KITTY RECEIVES GIFT OF SIGHT AND THE GIFT OF LIFE
Raleigh, North Carolina November 4, 2015
Second Chance Pet Adoptions announces that after one year, Billy, the Blind Kitty, is happy, healthy and can finally see, thanks to generous supporters and a grant from the ASPCA.
Billy was a 6 month old blind kitten, rescued from the local kill shelter in October 2014. His blindness, caused by mature cataracts, left him virtually unable to see, except for occasional shadows. A good candidate for phacoemulsification surgery, this procedure would extract the cataracts and an artificial lens would be placed in the eyes, allowing him to have near normal vision. However, the cost of the surgery had to be taken into account.
Second Chance Pet Adoptions' Director, Lisa Imhof, said "Although we wanted Billy to have his sight, we would need to find a way to fund the procedure, without taking anything away from the other animals in the program". Private donors opened their hearts to help Billy and he gained a following. But shortly before he was to have his surgery, he developed a life threatening urinary blockage, which required an extensive urinary surgery and a subsequent surgical procedure. "Everything was on hold until we could be sure little Billy would survive. It was touch and go for a little while", said Imhof. His long road to recovery required months of care battling the unusual MRSA infection he had. Saving his life had become the priority and had definitely strained the donated funds previously slated for the eye surgery.
Fortunately, Second Chance Pet Adoptions received a grant from Lil BUB's Big Fund for the ASPCA, a unique program and partnership started in 2014 by Lil Bub and the ASPCA, which distributes funds for special needs pets. This grant enabled Billy to have his cataract procedure, and on October 12th, 2015 Billy finally received the gift of sight. "His post operative course has been amazing and it is a treat to watch him see the world through new eyes. Everyone has been rooting for him from the beginning. We are so grateful for the outpouring of love and generosity for this wonderful cat", said Imhof.
About Second Chance Pet Adoptions
Second Chance Pet Adoptions is the oldest no-kill rescue organization in Wake County. Our mission is to champion homeless cats and dogs who are healthy or treatable, in the quest to find their forever homes and engage with our community to promote responsible pet ownership, ultimately reducing future generations of homeless animals.
To date, Second Chance has rescued and rehomed over 10,000 cats and dogs, and provides all necessary medical attention and care until each animal finds a new home. For more information, please visit www.secondchancenc.org.
About the ASPCA®
Founded in 1866, the ASPCA® (The American Society for the Prevention of Cruelty to Animals®) is the first animal welfare organization in North America and serves as the nation's leading voice for animals. More than two million supporters strong, the ASPCA's mission is to provide effective means for the prevention of cruelty to animals throughout the United States. As a 501(c)(3) not-for-profit corporation, the ASPCA is a national leader in the areas of anti-cruelty, community outreach and animal health services. For more information, please visit www.ASPCA.org, and be sure to follow the ASPCA on Facebook, Twitter, and Instagram.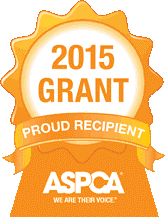 https://www.secondchancenc.org/wp-content/uploads/2017/03/SCPA-logo-300x158.png
0
0
Rachel Cronmiller
https://www.secondchancenc.org/wp-content/uploads/2017/03/SCPA-logo-300x158.png
Rachel Cronmiller
2015-11-05 10:05:35
2017-03-16 21:31:07
SECOND CHANCE PET ADOPTIONS' BILLY THE BLIND KITTY RECEIVES GIFT OF SIGHT AND THE GIFT OF LIFE