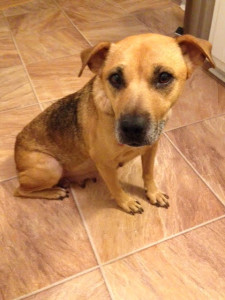 Contact: Dave Ballesteros; 919-851-8404; daveb@secondchancenc.org
COMMUNITY RALLIES BEHIND RESCUE
RALEIGH, NORTH CAROLINA (February 4, 2016) – Members of the local community have rallied behind Merry, a rescue pulled from a local kill shelter in December by local animal rescue group, Second Chance Pet Adoptions. Merry was part of Second Chance Pet Adoptions' "Christmas Challenge" to pull 10 dogs from high-kill shelters and find them homes before Christmas.
Merry was a stray who came in severely malnourished, and heartworm positive. After slowly gaining weight over several weeks, Merry's foster mom noticed she was beginning to have difficulty breathing. It was discovered that Merry was severely anemic – and to everyone's surprise – pregnant, and expected to give birth within 10 days. Because of Merry's health, an emergency C-section provided the best opportunity for her survival, as well as the survival of the puppies.
Dr. Sullivan from Bayleaf Veterinary Hospital performed the emergency surgery on Merry, where she received a blood transfusion from a donor dog and gave birth to 9 puppies. Fortunately, Merry made it through the delivery, but remained very weak. Her red blood cell count continued to drop, and she was unable to produce enough milk to support the puppies. Second Chance staff made the decision to bring the puppies to the adoption center where they could be bottle fed and provided with round the clock care. Without a healthy mother, Merry's puppies had a very rough start and two puppies did not survive. Staff and volunteers have been spending nights at the center – sleeping on the floor – to care for the remaining puppies.
During the recent snowstorm, the puppies were moved to the home of a volunteer with a wood stove and a generator in preparation for power loss. Volunteers continued to support the puppies and braved the elements to help with feedings, which needed to be done every 3 hours.
Over the past several weeks, Merry has been improving steadily and her red blood cell count has returned to normal. Christian
LeBron, Merry's foster mom has been closely monitoring her progress and said, "Merry is such a sweet, loving dog. Every day she's gained a little more bounce in her step. We are so happy that she's doing well."
The seven remaining puppies are all thriving and continue to grow stronger every day. Lisa Imhof, Director of Operations for Second Chance stated, "We are so grateful for the way our volunteers have rallied to help Merry and her puppies. They would likely not be here today without their support."
Both Merry and her puppies will be available for adoption through Second Chance.
To make a donation to help Merry and her puppies, visit https://www.secondchancenc.org/support-us/will-you-help-merry/. To learn more about becoming a foster home or to learn about volunteer opportunities, please visit www.secondchancenc.org.
About Second Chance Pet Adoptions
Second Chance Pet Adoptions is the oldest no-kill rescue organization in Wake County. At Second Chance, our mission is to champion homeless cats and dogs who are healthy or treatable in the quest to find their forever home and engage with our community to promote responsible pet ownership – ultimately reducing future generations of homeless animals. Learn more at www.secondchancenc.org.
https://www.secondchancenc.org/wp-content/uploads/2017/03/SCPA-logo-300x158.png
0
0
Rachel Cronmiller
https://www.secondchancenc.org/wp-content/uploads/2017/03/SCPA-logo-300x158.png
Rachel Cronmiller
2016-02-15 15:50:19
2017-03-16 21:35:30
COMMUNITY RALLIES TO HELP A RESCUE DOG AND HER PUPPIES