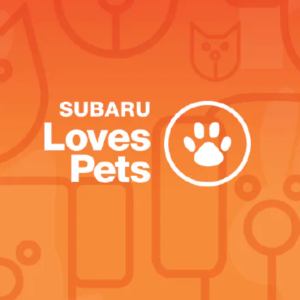 Second Chance Pet Adoptions is proud to have been selected by Johnson Subaru of Cary to be the beneficiary of their 2021 #SubaruLovesPets initiative! A core principle of the Subaru Loves Pets initiative is an ongoing commitment to help all pets find their perfect, loving home. Subaru and its retailers stand by this commitment through a scale of  actions, from supporting local pet adoption efforts to being the ASPCA's largest corporate donor. Subaru and its retailers are proud to have donated over $30 million to support the adoption, rescue, transport, and health of more than 250,000 animals.
This October, Subaru will amplify their love of pets by ramping up helpful initiatives during their annual Subaru Loves Pets month. Subaru and its retailers will help support local animal welfare organizations across the country by donating $100 for every pet (dogs and cats) adopted during October up to $3,100; Johnson Subaru of Cary will be making their contribution to Second Chance Pet Adoptions. (Want to inspire a Subaru donation? Meet and apply for adoptable pets here!)
For the third year in a row, Subaru will also celebrate their National #MakeADogsDay on October 22. On Make A Dog's Day, Subaru encourages all dog lovers to do something extra special for their dogs. In celebration, Subaru and Second Chance Pet Adoptions are jointly planning with Waverly Place (Cary) an October 23 event (1:00 – 4:00) that includes adoptable dogs, Bombshell Beer Company, games, giveaways, and a donation drive. Proceeds from the event benefit the cats and dogs in Second Chance's adoption program. Learn more here and stay tuned for additional details!
Thank you, Johnson Subaru, for your pawticipation in #SubaruLovesPets and pawtnership with Second Chance Pet Adoptions! Because of your support, more stray and abandoned cats and dogs will get the second chances to know love that they need and deserve.