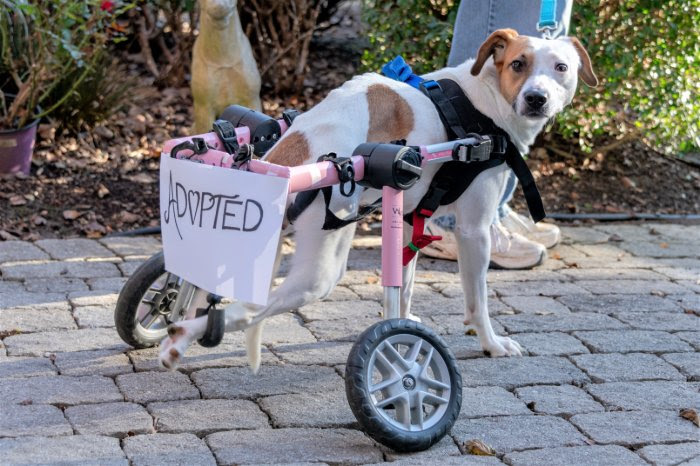 One Year Later: Holly's New Life
Second Chance introduced you to Holly on #GivingTuesday last year. What's she up to a year later? Living life to the fullest with her forever family, thanks to you! Let's take a look back…
In November 2019, a good Samaritan spotted a few stray dogs and reached out to Second Chance Pet Adoptions for help. One was in especially bad shape — the 10-month-old hound we'd soon come to know as Holly was visibly emaciated even from a distance. Her back legs were nonfunctional, so she was dragging the lower half of her body along the coarse ground, scraping her belly, back legs, and tail on sticks, gravel, and dirt.
Once caught, Holly was rushed straight to a veterinarian, and predictably, the vet did not deliver the best of news about Holly's condition. Her pelvis was fractured and the muscles in her back legs had atrophied. There was evidence of trauma along her spine, so our best guess was that Holly had likely been hit by a car more than a week before she was found. The severe hookworm infestation raging in her intestines had also left her anemic.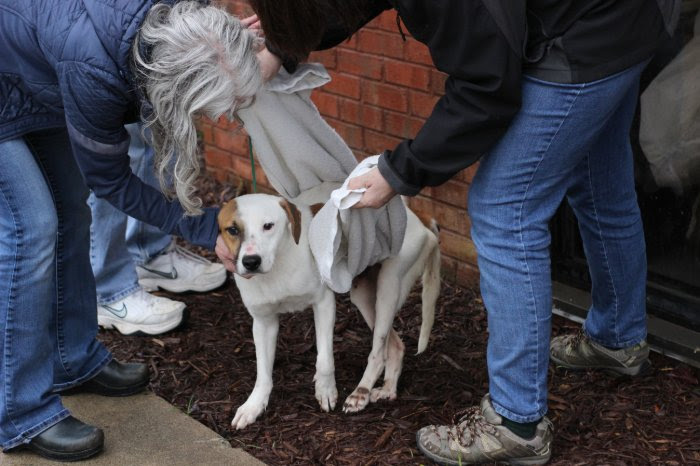 90÷anding and labor-intensive: lack of control over her bladder and bowels, paired with the assistance Holly needed for every step she took, was matched only by the demands of vet appointments and physical therapy. Upon her arrival at Second Chance, one look at Holly was all it took for our Assistant Treasurer, Carol, to convince her husband – our Board of Directors President, Dave – that Holly needed to come home with them and soak up all the TLC they had to offer. Over the course of several months, Holly worked her way through hydrotherapy, acupuncture, and other treatments that gave her some ability to walk, but she also got a slick pair of wheels so she could cruise more effortlessly!
Though Holly will always have medical challenges, Dave and Carol eventually leaned into what the rest of us all knew: Holly was home from day one. In August, they committed to "forever" and officially adopted Holly!
Because of our donors, Holly is happily home now, but more dogs (and cats!) still roam the streets, many of them injured and alone. To ensure we can be there for them when we get the call for help, Second Chance will be asking for your support on #GivingTuesday. Whether you donate, share our fundraising pages, create your own fundraising page, or tune in for our live stream that evening, there are several ways to partner with us on Dec. 1 to help animals in need!
https://www.secondchancenc.org/wp-content/uploads/2020/11/adopted.jpg
466
700
Hannah Allison
https://www.secondchancenc.org/wp-content/uploads/2017/03/SCPA-logo-300x158.png
Hannah Allison
2020-11-30 23:49:32
2020-11-30 23:51:04
Holly's Rescue Anni-fur-sary: A #GivingTuesday Happy Tail