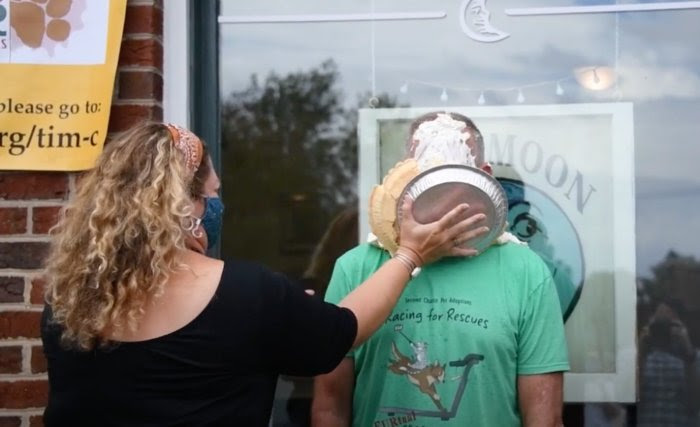 In October of 2019, Tim Chlopowicz was on his way to the NC State Fair (held at the fairgrounds just a mile or some from Second Chance) when he happened to pass by our adoption center, adorned with our logo. After seeing our sign, he took it as his sign to get involved with rescue and with Second Chance in particular. Tim had long had ideas about helping homeless animals but had yet to truly get "plugged in," especially given the demands of work and family life. Without hesitation, Tim immediately became a "boots on the ground" volunteer, pulling dogs from local county shelters and transporting them to the Virginia border, where other animal rescues received them to complete their journeys north to their forever families.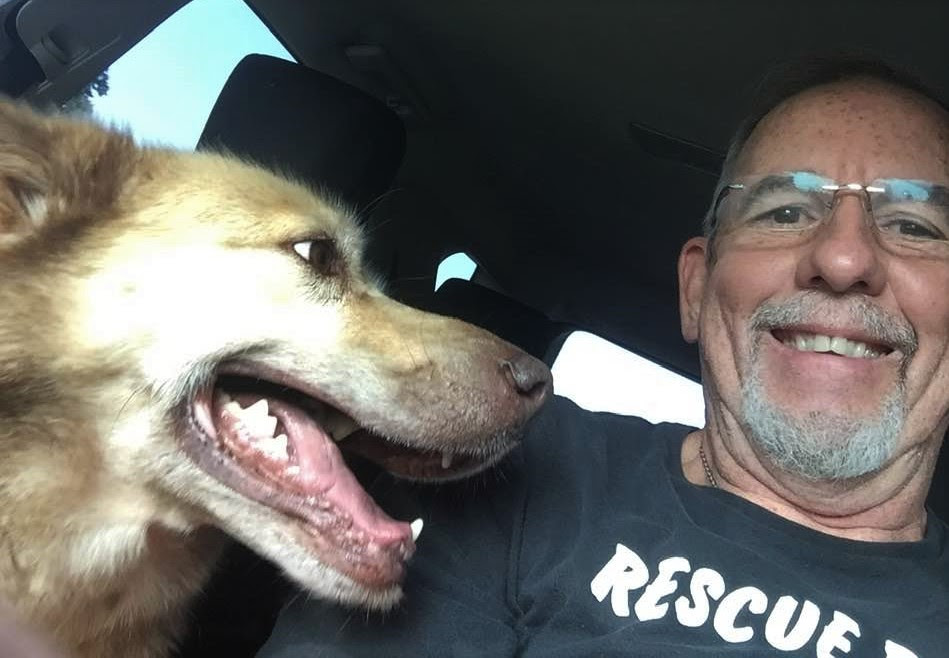 The first day that he walked into our adoption center, Tim immediately offered to raise $5 million for our cats and dogs by getting 1 million people to give $5 each. When asked if he knows 1,000,000 people, Tim says, a bit (but not totally) tongue in cheek, "no, but I know half a million." With the support of almost 200 friends and relatives to date, Tim's fundraising efforts (which began in earnest in July) have now generated almost $8,000!
As a grandfather to two young boys, Tim promised his community that, for each $1,000 he raised, his grandsons could clobber him with a pie, no video, to be shared with his supporters. "Pies for Paws" was born, and perhaps a little too eager to mess up this guy's mug, his friends and family hit the first milestone on DAY ONE of his fundraiser! For his first $4,000, his grandkids sent four delicious pies flying into Tim's face; pie #5 was thrown by the owner of the Once in a Blue Moon Bakery and Cafe, Lily, while pie #6 was chucked by CBS 17's Chief Meteorologist (and dad to Second Chance graduate, Tigger) Wes Hohenstein. Pie #8 was flung by the one and only Carolina Hurricanes mascot, Stormy.
This past Monday, for pie #8, Tim got clobbered by the most famous Durham Bull of all, Wool E. Bull! Congratulations on, and thank you for, $8,000, Tim, and Wool E., thanks for pawticipating in Tim's fundraiser and helping stray and abandoned cats and dogs get their second chances to find love!
So far, Tim has received eight pies in the face. If you want to catch up on all the videos, visit his fundraising page. If you'd like to keep up with his endeavors on Facebook, you can follow his fundraising page here.
Want to play a part in Pies for Paws? Make your contribution now!
https://www.secondchancenc.org/wp-content/uploads/2020/10/DSC06919.jpg
683
1024
Hannah Allison
https://www.secondchancenc.org/wp-content/uploads/2017/03/SCPA-logo-300x158.png
Hannah Allison
2020-10-09 15:56:09
2020-10-09 16:01:32
Pies for Paws: One Volunteer's Tasty Tale!