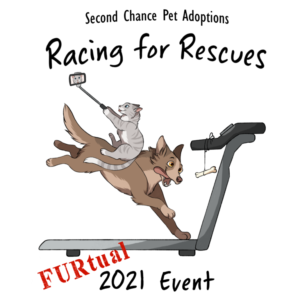 Our annual 5K race/fun walk is once again FURtual (virtual)! Racing for Rescues
returns April 30 – May 9, 2021. Participate from anywhere!
NEW this year:
Runners can submit their timing to a leaderboard

YOUR pet can be featured on the shirt

Raffle prize value increased to $750

Eligible fundraisers get FREE registration
See all the event info and register here
 now!
Register to Participate
Whatever your speed, we've got something for you:
Run a 5K or take a casual fun walk
Runners can submit their timing
Get an event t-shirt no matter what!
Fundraise or Make a Donation
COVID doesn't have to steal away animals' second chances:
Set up a fundraising page of your own or donate to one
3 fundraisers will each win $50 Amazon gift cards
Those who raise $250 get FREE registration!
Get Your Pet on the Shirt
Enter your rescued cat or dog into our "Snapshot to Mascot" t-shirt competition! Purchase your entry tickets, submit your pet's photos, and YOUR fur baby could end up as one of the two animals on the official event t-shirt!
Get Your Raffle Tickets
We're raffling off $750 worth of gift cards that can be spent like cash! Shop, dine, or travel with $500 from American Express, $150 from Amazon, and $100 from Walmart! (Why not use that AmEx card to shop local?)